Five years ago, author/illustrator Jarrett Krosoczka introduced an unforgettable character to the world of children's comics. Her name is Lunch Lady, and her tag line is "Serving Justice and Serving… Lunch!" Who can resist a come-on like that?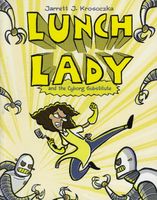 The first Lunch Lady book – "Lunch Lady and the Cyborg Substitute" – was published in 2009, and the series has become a favorite with young readers. Kids love the way that Lunch Lady (a true kick-butt type) and her sidekick Betty modify various types of food products and kitchen utensils into superhero gadgets and use them to ensure that Thompson Brook Elementary stays safe from bad guys. Only a group of kids known as the Breakfast Bunch knows of Lunch Lady's secret identity.
Krosoczka continued to chronicle the adventures of Lunch Lady in eight more books, winning more readers with each one. The series is instantly recognizable with its yellow, black and white color scheme, and kids tell me they love how someone they deal with every school day – a lunch lady – is a superhero in Krosoczka's books. In fact, Krosoczka says he got the idea for the series years ago when he went back to his grade school to talk about being an author and saw Jeannie, who had been the lunch lady. As he says, "I had never thought about her life outside of the lunchroom. I went home and began writing."
More than 315,000 "Lunch Lady" books have been sold, there's a movie option on the series, and now Krosoczka brings the Lunch Lady saga to a grand finale in the recently-published "Lunch Lady and the Schoolwide Scuffle" (Random House, $6.99, ages 7-10).
In this book, the Breakfast Bunch convince Betty and Lunch Lady – whose positions have been cut from the school budget – to return and help the students fight against the new administrators, who just happen to be the evil doers from all of the previous Lunch Lady adventures. It's a perfect, satisfying way to end the series as young readers will enjoy seeing villains from previous books come up against Lunch Lady one more time.
Lunch Lady has her own
website
, and kids can go there to play a video game based on the series, and find out about the books. But kids and parents also might want to check out Krosoczka's own
website
, where they'll find eight different versions of Krosoczka's biography (including a
Twitter biography
and a
Fake Biography
), a wonderful feature called "
Sketchbook Saturday
," in which Krosoczka shares his latest drawings, and activities based on the "Lunch Lady" series and other books that Krosoczka has written.
For, if you don't already know it, the author/illustrator of "Lunch Lady" also writes picture books and novels. Among his picture books are "Good Night, Monkey Boy" (his first published book), "Bubble Bath Pirate," and "Punk Farm" (and its companion, "Punk Farm on Tour"). The multi-talented Krosoczka also has started writing the "Platypus Police Squad" books, a fiction series for kids ages 8-12. The first book is titled "The Frog Who Croaked," and the second book, set to be published at the beginning of May, is "The Ostrich Conspiracy."
And, if you're looking for inspiration – for yourself or the child/children in your life – watch Krosoczka's October 2012 TED talk,
"How the Boy Became an Artist."
In the talk, Krosoczka talks about being adopted by his maternal grandparents after it became clear that his mother, a heroin addict, was unfit to be a parent. Krosoczka also relates the importance of reading and learning to do art were in his childhood, adding bluntly that "imagination saved my life." Krosoczka's talk is less than 20 minutes, but it's guaranteed to put a smile on your face and help you remember just why being a children's author is such an important – and fulfilling – career.
(Note: This blog post is based on a copy of "Lunch Lady and the Schoolwide Shuffle" sent to me for review by Random House Children's Books, and I borrowed my post's headline -- "The Cafeteria Is Closing!" from the Random House press release).