If you know a kid who likes graphic novels (and who doesn't?), then you likely are familiar with books by Jimmy Gownley
,
Dave Roman, and the reigning queen of kids' comics, Raina Telgemeier. So it was no surprise to see a big crowd of excited kids and parents yesterday when the three graphic novelists presented a program at Politics & Prose Bookstore in Washington, D.C.
All three have won top awards for their work, and they've also been among the first wave of those filling the new -- and ever growing -- market for graphic novels for kids. Gownley's
Amelia Rules
books are beloved by our library's young readers, who especially enjoy the feisty Amelia. Roman's two
Astronaut Academy
books may be set in outer space, but readers love the fact that the characters face the kind of everyday friendship challenges that every kid understands. And Telgemeier's books, especially her Eisner Award-winning graphic memoir
Smile,
are among the most popular in our entire library. Kids are just fascinated to read about the emotional consequences of the dental drama that Telegeimer endured in middle school and high school.
At Saturday's event, the trio focused on presenting their newest books before taking questions from the audience. Gownley went first, talking about his new graphic memoir,
The Dumbest Idea Ever!,
which details how he created and self-published comics as a teenager. Gownley's initial efforts at creating comics were scorned by his best friend, who told him: "You should make a comic book about kids like us!" As Gownley told the crowd on Saturday: "I thought that was the dumbest idea ever, but it changed my life." Gownley's decision to create comics "about kids like us" resulted in the best-selling
Amelia Rules
series, which has shot him to stardom in the world of kids' comics.
In my library, kids who have read
The Dumbest Idea Ever!
have loved it, and it's become a word-of-mouth favorite. As Telgemeier does in
Smile
and her newest book
Sisters,
Gownley uses the graphic memoir format to both entertain and inspire kids. This
trailer
gives a sense of the pleasures readers will find in
The Dumbest Idea Ever!.
Roman's
Astronaut Academy
books, meanwhile, feature wild characters (time-traveling pandas, dinosaurs with wheels, etc.) and over-the-top humor. Roman's books, featuring black-and-white artwork done in a manga/anime kind of mash-up style, are set in an outer space boarding school where the most popular sport is Fireball. In the first book,
Zero Gravity,
we meet our spiky-haired hero, Hakata Soy, whose impressive quiff is more than a match for Tintin's. As a new student, Hakata is just trying to figure out the social hierarchy at the astronaut training school when suddenly he must cope with defeating a villain designed to look just like him.
In the second book,
Re-Entry,
Hakata and other Astronaut Academy students are eagerly awaiting the upcoming Fireball championship. Then disaster strikes, in the form of a shape-shifting monster, who is stealing and eating some of the nine hearts with which each student is endowed. As in the first book, Roman packs each page with action and hilarity; check out this
book trailer
to get a sense of Roman's style.
I titled a previous post "Raina Reigns" because her first two books,
Smile
and
Drama,
are so popular in my library. Her newest book,
Sisters,
has already become a "best-seller" among our young patrons. It's easy to see why, since Telgemeier once again displays a natural command of the emotions experienced by kids and teens. As she explained to the crowd at Politics & Prose, Telgemeier hadn't planned on doing another graphic memoir, but the legions of
Smile
fans kept begging her to tell more about her life. "I decided that since people seemed particularly curious about my sister, I would write a story about our relationship." Telgemeier added her sister was the first reader for the book, and it wouldn't have been published without her approval.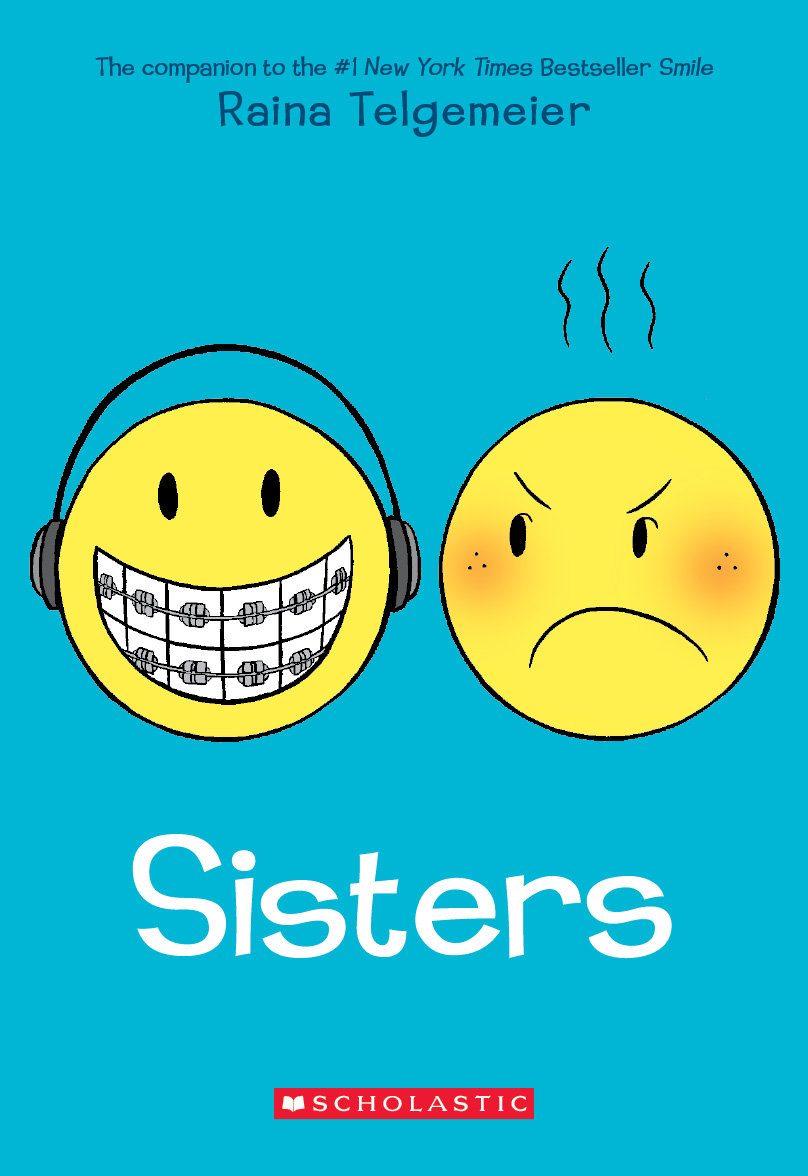 As her "framing device" for telling the story, Telgemeier said she decided to use a roadtrip from California to Colorado that her family took when she was 14 and her sister Amara was nine. As Telgemeier tells of the trip's many ups and downs (a snake plays a pivotal part), she also uses flashbacks to show how much she wanted a sister and how disappointed she was in the sister she got. Woven into the story is the increasing tension between Telegemeier's parents, who eventually divorced. As in
Smile,
Telegemier displays a genius for deftly combining poignancy and hilarity as she captures the ups and downs of being a kid. Telgemeier gives a further glimpse into her book and her writing/drawing process in this charming
book trailer
.
Telgemeier, who clearly delights in meeting her readers, remained unruffled at Saturday's program when a young fan asked during the Q&A time whether she and Roman -- her husband -- would ever have kids. "I like kids very much," she said adding that she enjoys spending time with her baby nephew. "But we'll have to see about kids -- maybe someday." Roman, meanwhile, pointed out that Telgemeier wouldn't have as much time to publish books like
Smile
and
Sisters
if they were to have kids.
Smile
took five years to write and draw, Telgemeier said, adding that she also was working full-time at another job at the time.
Sisters
took less time because Telgemeier now focuses full-time on making comics, but even so, it didn't happen overnight; Telgemeier said she wrote the "script" or story in a month, and then it took her another year and a half to do the artwork.
Other questioners wanted to know why the trio decided to become graphic novelists. Roman noted that, "for us, comics is what we do. Whenever we get an idea, it's a comic book idea." Gownley added that he was happily stunned when he first discovered comics at the age of nine, and quickly decided that's what he wanted to do with his life. For Telgemeier, reading
Calvin and Hobbes
for the first time "was like a lightning bolt from the sky that came and hit me over the head... and I said 'I want to do comics!'"
Final note: Happy Birthday to Politics & Prose which is celebrating 30 great years in the book-selling business today!