Here's a little something I learned the other night when my library, in conjunction with Politics & Prose Bookstore, hosted the authors and illustrator of the best-selling
Dork Diaries
series: you don't have to worry about attracting a crowd.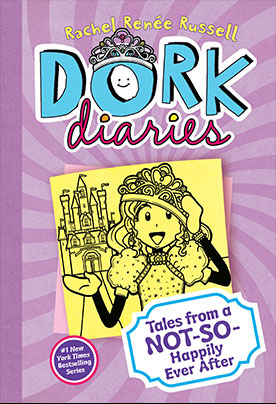 Even on a school night, we just about filled the Takoma Park Community Center auditorium, which seats more than 100 people. And the excitement was palpable -- a perfect reflection of the OMG!!! and SQUEE!!!! glittery fervor found in the books, written by Rachel Renee Russell, with help from her daughter, Erin, and illustrated by her other daughter, Nikki. Everyone in the audience -- even the adults -- were clearly thrilled to be part of the launch of
Dork Diaries
Book No. 8:
Tales of a Not-So-Happily Ever After.
The crowd was definitely girl-heavy, with just a smattering of boys (who looked like they were just tagging along with their sisters). Yet, here's the interesting thing: it was a wonderfully diverse crowd in terms of race. I mention this because Rachel Russell has been criticized for making her main character, Nikki, white. With the whole "We Need Diverse Books" push these days, lots of people are looking for main characters of color, and here is Rachel Russell -- herself an African-American -- choosing to make her main character white. In an
interview
with
The New York Times
last year, Russell defended her decision, saying that she saw Nikki as an "Everygirl, all hues mixed together," and noted that Nikki's best friends are African-American and Latino, although it's hard to tell because of the stylized, anime-type, black-and-white illustrations. In response to a question from the audience at our event, Rachel Russell reiterated that "I am committed to diversity."
Nikki, Erin & Rachel Russell wearing tiaras for their latest book.
Young
Dork Diaries
fans certainly don't seem to have any diversity issues with the books. All of the young fans who came to our event the other night readily identified with the middle school challenges faced by Nikki, which include dealing with her bratty younger sister Brianna, her nemesis MacKenzie, and her crush, a boy named Brandon.
Meanwhile, at our event, the Russell family (Rachel's sister Kim and brother Don were part of the entourage) pulled out all the stops to please their fans. For example, during the Q & A section, Nikki Russell spent most of her time behind an easel doing "dorkifications" -- i.e. portraits in the
Dork Diaries
style -- of a few lucky questioners. The girls were thrilled when they received their large-scale portraits.
Nikki Russell also agreed to do a small-scale "dorkification" in one book for each fan when the book signing began. This slowed down the line considerably, but that was no issue with all of the young fans, who were happy to wait for such personalization. (Their parents, however, were a teeny bit less patient as they worried about late bedtimes).
Rachel, Erin and Nikki Russel were gracious with each fan, really taking time to talk with them and personalize each book. Of particular note was their willingness to stop and pose for photographs with a fan; each time they did this, the Russells would say in unison: "On the count of three, say "dork:" 1, 2, 3 -- DORK!"
Fans also were delighted by two pieces of news. The first item is that Rachel and Erin Russell are working on a spin-off series, titled
Locker Boy
. The main character is, of course, a boy, although Rachel Russell said there's also a strong girl character. The second piece of news is that Lionsgate Summit Entertainment will be making a
Dork Diaries
movie, set to be released in 2016.
One mother of a young fan provided a nice wrap on the night, saying "Thank you for writing these books!" and telling the Russells that the
Dork Diaries
had renewed her daughter's interest in reading. There's no higher compliment for an author than that.