Hooray -- our full roster is finally in place for the 2016 Caldecott Committee! So now it's really time for me to speed up my background preparation for our year of deliberations, which starts in January. It's been suggested that we take in art exhibits and read in-depth about art of all kinds. Hardly a burdensome assignment!
So I've taken time to get to one major art exhibit,
"Degas/Cassatt,"
at the
National Gallery of Art in Washington, D.C.
Now closed, the exhibit was a fascinating, and rather tantalizing, look at the bond between two artists who clearly were kindred in the way they saw the world.
Mary Cassatt, Little Girl in a Blue Armchair, 1878 oil on canvas. National Gallery of Art, Washington, Collection of Mr. and Mrs. Paul Mellon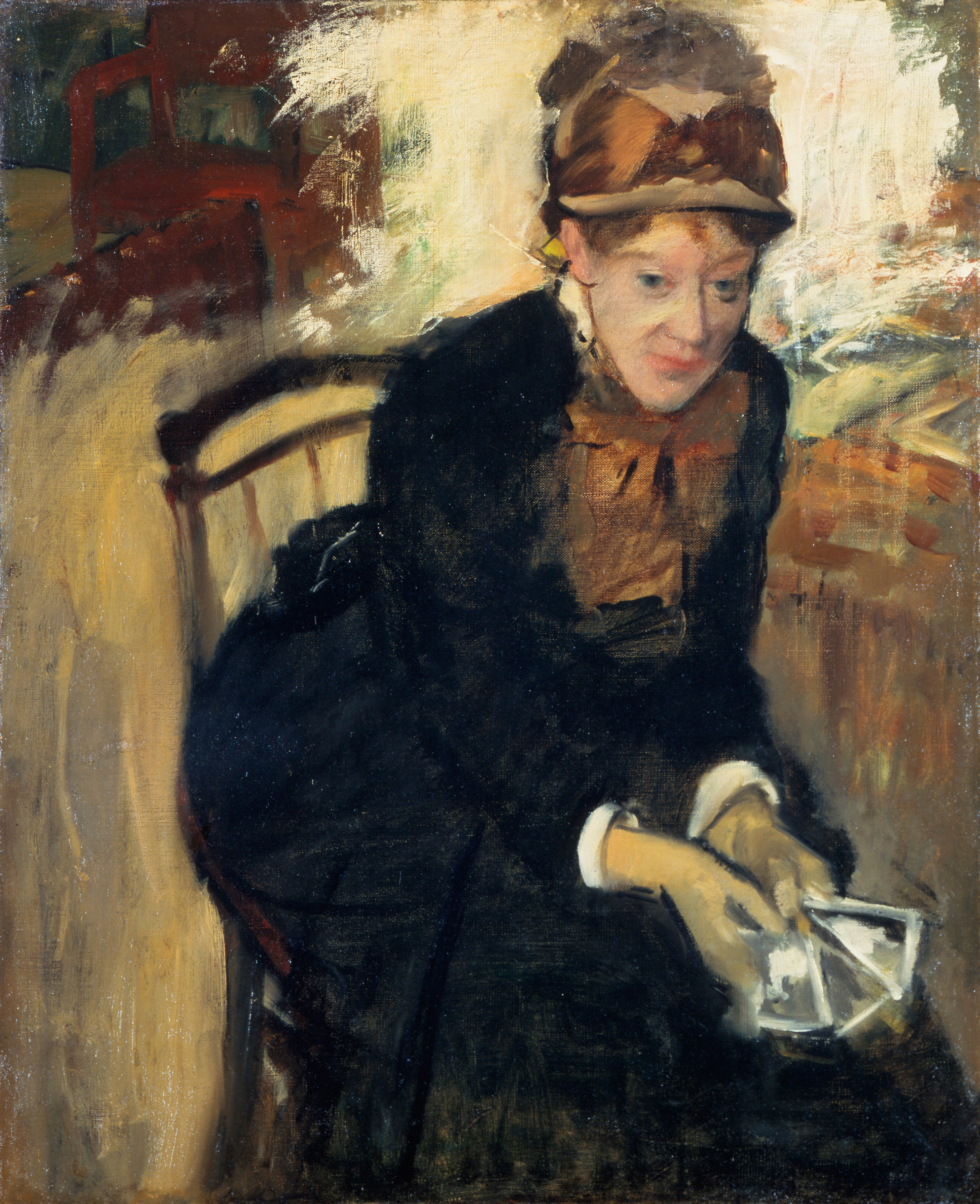 Edgas Degas' portrait of Mary Cassatt
After enjoying the Degas/Cassatt exhibit, I took the time to wander around and enjoy the art in some of my favorite galleries at the National Gallery, especially paintings by my-all time favorite artist,
Paul Cezanne
. I'm far from a Cezanne expert, but I'm fascinated by the way that his work is the bridge between impressionism and modern art -- something that
Picasso
himself acknowledged.
Such a museum visit is something of an encouraged digression by the folks who have served on previous Caldecott committees and who believe it's important to know as much about all kinds of art as possible before digging into the piles of books we'll receive next year. And I can see how this kind of museum visiting can definitely be helpful; just look at one potential 2015 Caldecott Medal book, "The Iridescence of Birds."
That book, written by Newbery Medal winner Patricia McLachlan, illuminates the life of artist Henri Matisse, through the remarkable illustrations of Hadley Hooper. Although I could certainly do Internet research about Matisse, it's definitely a major plus that I can actually see work by
Matisse at the National Gallery
(which I did during my recent visit).
Open Window, Collioure, 1905, by Henri Matisse (Nat. Gallery of Art DC)
But seeing art is only one part of my Caldecott preparation. I've also been doing LOTS of reading, and I've found two books that are hugely useful. First, there's
From Cover to Cover: Evaluating and Reviewing Children's Book
s (HarperCollins), by the eminent K.T. Horning.
From Cover to Cover
was first published in 1997, and then updated in 2010. The other book, just published a couple of months ago, is
Reading the Art in Caldecott Award Books: A Guide to the Illustrations
(Rowman & Littlefield)
,
written by Heidi K. Hammond and Gail D. Nordstrom.
Both books offer such an invaluable education on picture books that they should required reading for Caldecott committee members. The books also make a perfect pairing. In
From Cover to Cover
, Horning devotes a chapter to each major type of children's book (fiction, non-fiction, poetry, etc.).
In the chapter about picture books, she begins with a bit of history about picture books, then proceeds to offer a primer on their visual elements, as well as how the text and illustrations must work together. Horning,
the director of the Cooperative Children's Book Center of the School of Education at the University of Wisconsin–Madison,
does spotlight some specific picture books as examples, but she mainly concentrates on explaining the picture book form and how it works.
By contrast,
Reading the Art in Caldecott Award Books
takes the opposite approach. This book, which is obviously solely about picture books, focuses on specific Caldecott Medal and Honor books, using those to offer more general information about how to look at the art in the books. Authors Hammond and Nordstrom, librarians who both served on the 2011 Caldecott committee, do include a valuable glossary in the back in which they define key terms like "negative space" as well as explaining different types of materials and mediums used by artists.
Between these two books, I'm getting quite an in-depth education in how picture books work, as well as how to look at them with the Caldecott criteria in mind. While Horning isn't specifically applying Caldecott criteria as she writes about picture books, her insights are important. Each time I re-read her chapter on picture books, I discover something new. As Horning notes: "Picture books present a special challenge to the critic because they require evaluation of art, text, and how the two work together to create a unique art form... it is important to remember that nothing ever happens accidentally in a picture book. It is a complex, carefully planned work of art that creates a satisfying interplay between text and pictures to tell a story that a small child can understand."
Meanwhile, I've enjoyed reading chapters at whim in
Reading the Art in Caldecott Award Books.
Each chapter zeroes in on a specific Caldecott Medal or Honor book. Authors Hammond and Nordstrom begin with an analysis of the illustrations, then follow with a section titled "for further consideration," giving information on how the book came to be, based on published interviews with the illustrator. Each chapter concludes with an "illustrator note," filled with background about the winning artist.
One of my favorite Caldecott Medal winners is
The Three Pigs
by David Wiesner, and so I decided to start with the chapter in
Reading the Art in Caldecott Award Books
on that book. Despite the fact that I have read
The Three Pigs
numerous times, both by myself and with classes of kids, I still found myself learning new things about it. These are the kind of things I need to learn to look at as I start my Caldecott year in January.
For example, Hammond and Nordstrom quote children's book expert Anita Silvey as pointing out that Wiesner designed even the cover and endpapers to "reflect the story," with the brick recpresented by the burgundy spin, the sticks by the gray cover, and the straw "by the ochre endpapers." This is such a good reminder that I need to be looking at, and thinking about, EVERY part of a picture book.
So the Caldecott reading continues! And I'd be remiss if I forgot to mention how much I enjoy -- and learn from -- the
Calling Caldecott
blog on
The Horn Book
website. If you love picture books and want to gain insight into some potential Caldecott winners, put this blog on your daily reading list!